[ad_1]

Taste the charm of the Alsace region
Among other things, December means the return of fabulous Christmas markets all over France. If we had to choose one, we would choose, without hesitation, Strasbourg Christmas market. With over 2 million visitors annually, it is the most famous market in Alsace, but also one of the most popular in France!
In addition to the magical atmosphere of its Christmas markets, Alsace is known as a very charming and picturesque region. This charm doubles during the Christmas season. And the unique style of the city of Strasbourg makes it a must when it comes to visiting Alsace.
Find out why Strasbourg is the Christmas capital
First off, Strasbourg has the oldest Christmas market in Alsace (dating from the Middle Ages).
The first market (called Christkindelsmärik: market of the baby Jesus in Alsatian) took place in 1570 at the Place Broglie. Initially, it was open three days before Christmas Eve. It was the place to get your gingerbread, herbs, candles, and everything else you needed for Christmas.
What you need to know
Another reason why Strasbourg's Christmas market is well worth a visit is because it is divided into several smaller markets. So, you can walk around them and discover the city of Strasbourg while enjoying the magical, festive, market atmosphere.
All in all, there are 11 markets, all located on the Grande Île. You can walk from one to the other in just a few minutes.
The Christmas markets are open from November 25 to December 24 2022, which gives you a whole month to visit them!
Where is the Christmas market in Strasbourg?
As mentioned above, there are several markets spread throughout the small centre of Strasbourg! Here are the places where you can find the best Christmas markets in Strasbourg in 2021:
– Place de la Cathédrale with the sublime Strasbourg cathedral. (49 stands)
– Kléber: the main square. (138 stands)
– Gutenberg with its country chalets. (4 stands)
– Broglie: the square where you will also find the Strasbourg Town Hall. (70 stands)
– Terrasse Rohan with its Alsacian specialities. (20 stands)
You can also find six smaller Christmas markets on the squares:
– Marché aux Poissons with its food stands. (5 stands)
– Temple Neuf and Saint Thomas with smaller markets. (17 and 13 stands)
– Place du Château (40 stands)
– Benjamin-Zix in the famous tourist district La Petite France. (11 stands)
– Grimmeissen and its social and solidarity market. (19 stands)
– Place Louise Weiss and Suzanne Lacore and their Advent village (6 stands).
What to find at the Strasbourg Christmas market?
After two years without its famous market, the city is pulling out all the stops with a theme of 'Let's light up the stars' this year. It's set to be a real eye-opener, and will be a great way to immerse yourself in the magic of winter.
Like at most Christmas markets, you will find stalls with food such as soup, gingerbread, chocolates or the little Alsatian bredele biscuits. Drinks like the inevitable hot chocolate, beer and mulled wine. But also, local and artisanal products. You will find everything you need for your Christmas gifts or the perfect souvenir of your visit.
Your children can also participate in activities at the Advent village, such as creating Christmas decorations.
Not to be missed: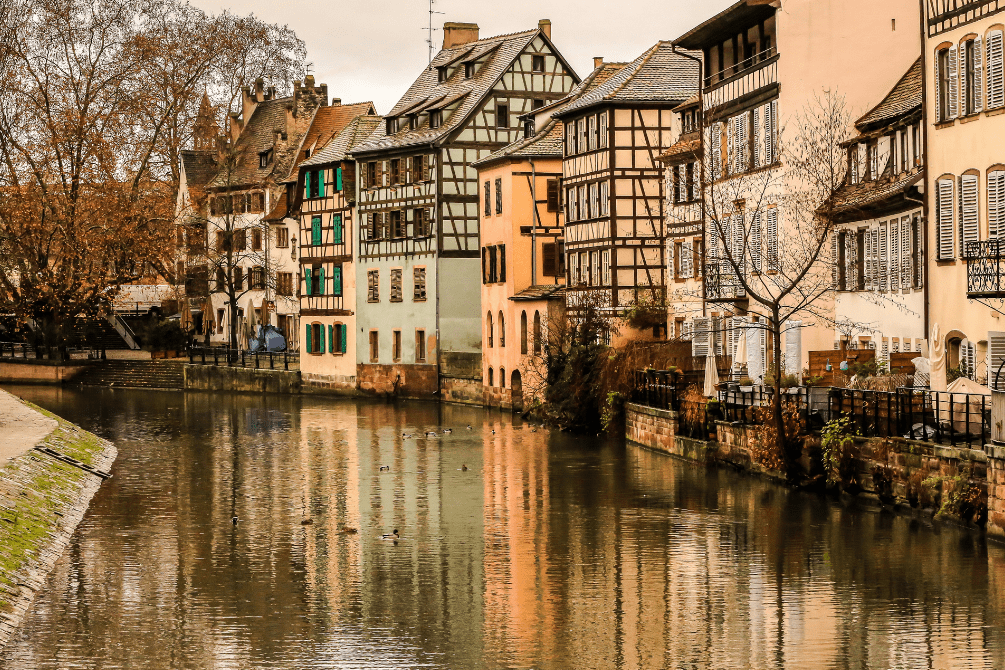 The Promenade aux étoiles illuminations: A route of more than 600 stars highlighting the historical and architectural heritage of Strasbourg, across the Grande Ile. This route starts in Louise Weiss Square and ends at the Sainte-Madeleine Bridge.
The cathedral's Christmas crib: This 18-metre long crib dating from 1907 is wonderful and enchanting. You can admire it in Strasbourg's Notre-Dame Cathedral, at Place de la Cathédrale.
– From 25 November 2022 to 24 November 2022.
– Stands will be open from 11am to 8pm every day.
– Strasbourg Christmas Capital will continue until 1 January 2023 at the Village de l'Après.
Place Kléber, its Big Fir Tree and its ice rink: One of the main squares in Strasbourg, which hosts the famous 30m high Big Fir Tree every year.  You will be amazed by its wintry wonder! You will also find some chalets and an ice rink.
Our Top 5 Christmas markets:
– Strasbourg
– Colmar
– Reims
– Lille
– Lyon
Don't forget to follow us on social media for all our latest news and inspiration for your next holiday!
When does the Strasbourg Christmas market take place?
The Strasbourg Christmas market is open from November 25 to December 24 2022, which means a whole month to visit.
Where is the Strasbourg Christmas market located when it is running?
There are 12 markets, all located on the Big Island. You can walk from one to the other in just a few minutes. More than 300 chalets in total. They are spread out over the Broglie, Cathedral, Castle, Kléber, Fish Market, Temple Neuf, St Thomas, Benjamin Zix, the terrace of the Palais Rohan and the Gutenberg and Hallebard streets.


[ad_2]

Source link