[ad_1]

Hikes through the Alps are my favorite excursions, in search of new architecture to photograph. Here I have to work out my pictures. For these photo shoots, I usually stay one night on location. This way I reserve the time with the most beautiful light for photography: late afternoon, blue hour, and early morning. For my current photo series about Modern Alpine Architecture, I traveled over two weeks from the Julian Alps in Slovenia, through Italy, Austria and Switzerland, and back to my home country of Germany. I understand the need to carry architectural photography equipment and backpacking gear is pretty niche. That being said, I hope this review helps other photographers who are looking to photograph architecture in remote environments or on multi-day excursions decide on a camera bag that can accommodate all their gear.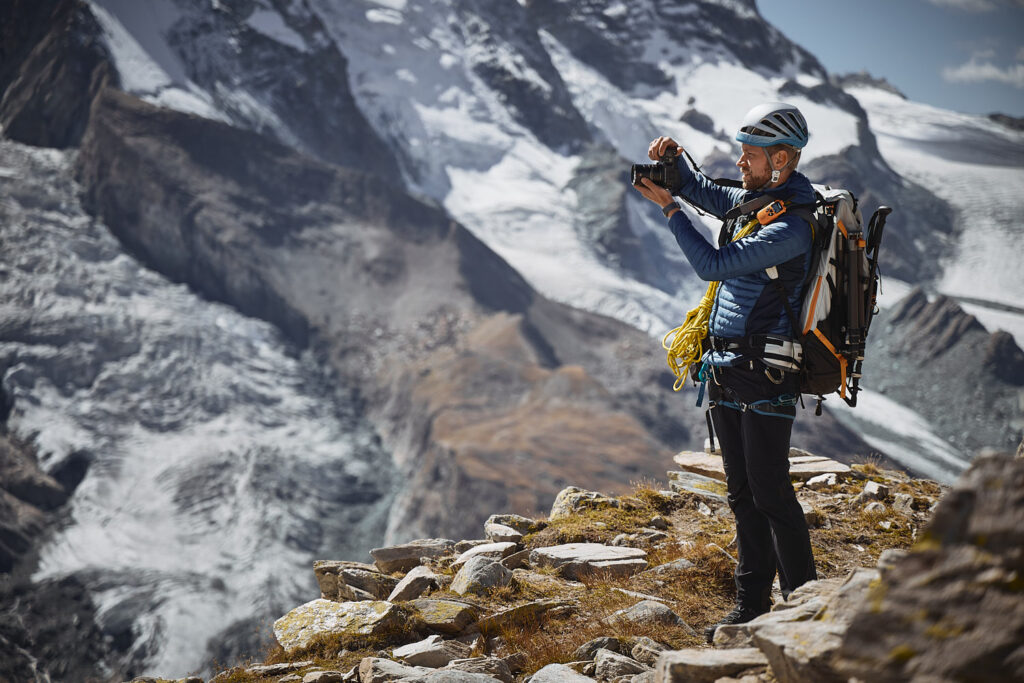 Packing for remote photo shoots
For photo productions in the mountains, I don't just have my camera system and tripod with me. For a tour with an overnight stay, I always take rain pants and a rain jacket, a light down jacket for the evening, as well as a hat and my Vallerret Markhof photo gloves. There is nothing worse than standing wet or cold on top of a mountain. It's easy to lose the desire to take pictures this way.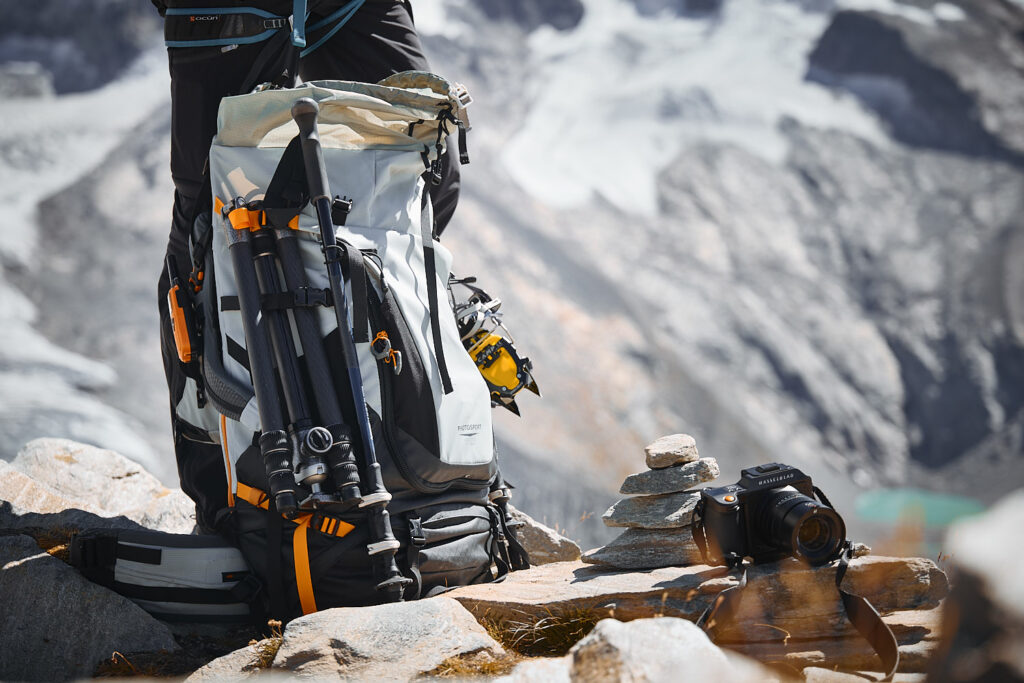 In addition, a sleeping bag, sleeping mat, and sometimes climbing equipment, as well as 2 liters of water and food for two or three meals come with me. It is easy to see that most of my equipment is not related to photography. With that said, many classic photo backpacks are not well equipped for me, as they usually have very limited options for stowing such large, bulky items safely away from rain or snow. My research for photo treks brought me to the Lowepro PhotoSport Backpack Pro 70l AW III. I have always had super experiences with Lowepro. For example, my Protactic system of belts and lens cases, as well as my first photo backpack, the Vertex 300AW, still serve me well after over 10 years of hard production use.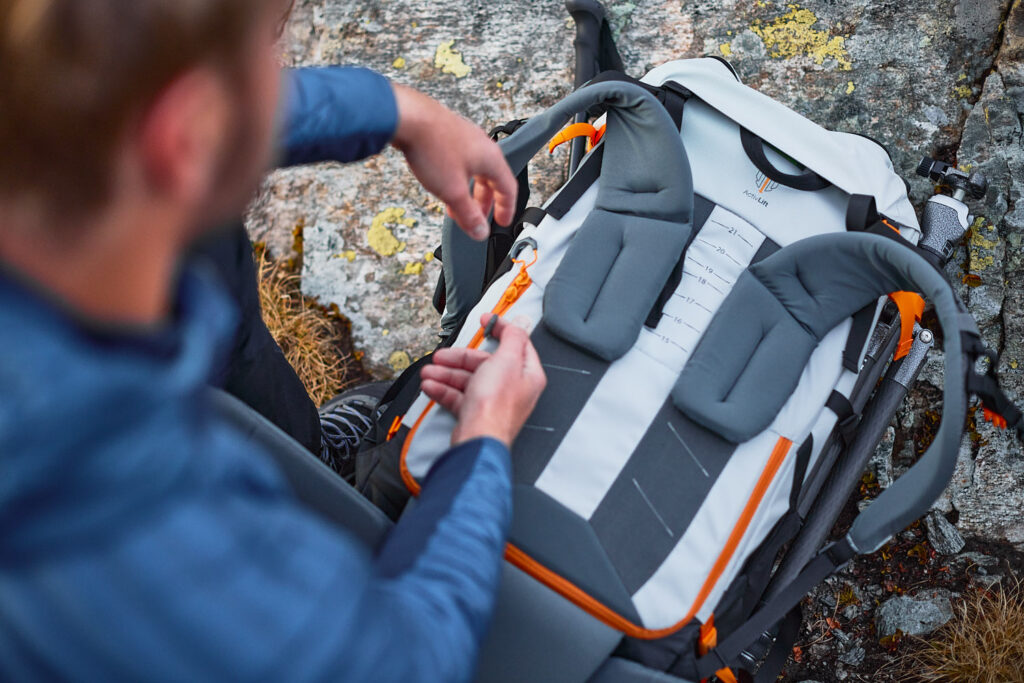 The PhotoSport Backpack Pro 70L AW III
The PhotoSport Backpack Pro 70L AW III is brilliant for longer trips. It comes with a base weight of 3.2 kg/ 7.1 lb, but adjusts so well to the body that it fits very good all day, even with a 20kg/ 45 lb pack weight.
At the bottom of the large 67l/ 17.7 gal interior I store my sleeping bag in a separate compartment. In the main compartment is the Camera Cube (more on that in a moment), and on top of that my sleeping mat, provision and warm clothes. On the edge of the inside, there is a separate pocket for a drink bladder with 3L capacity. The head compartment is an ingenious design. It can be easily removed and used as a standalone bag using the shoulder strap provided. This is where I store all my important documents, money, tissues, medicine, and my headlamp. I can take the bag with me anywhere while leaving the backpack in the car, tent, or shelter.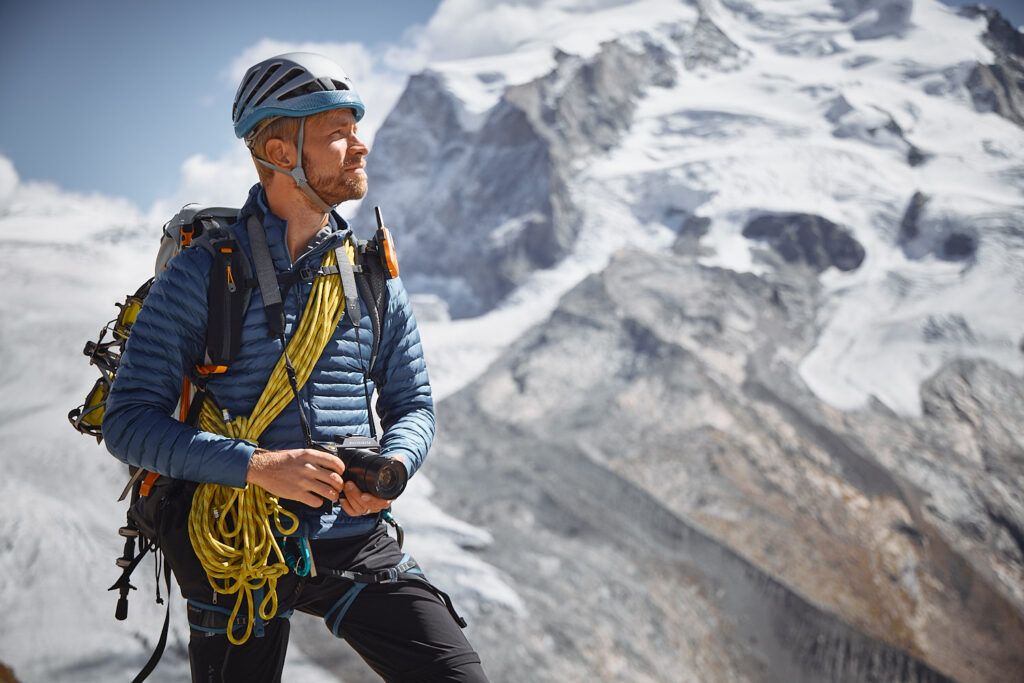 On its outside, the PhotoSport Backpack Pro 70L AW III does not skimp on attachment options either. I stow my rain gear in a pocket with DeepL access on the front. The side pockets hold my Gitzo GK2545T-82QD tripod, as well as a 1L water bottle. I can also easily attach my hiking poles and crampons for glacier tours.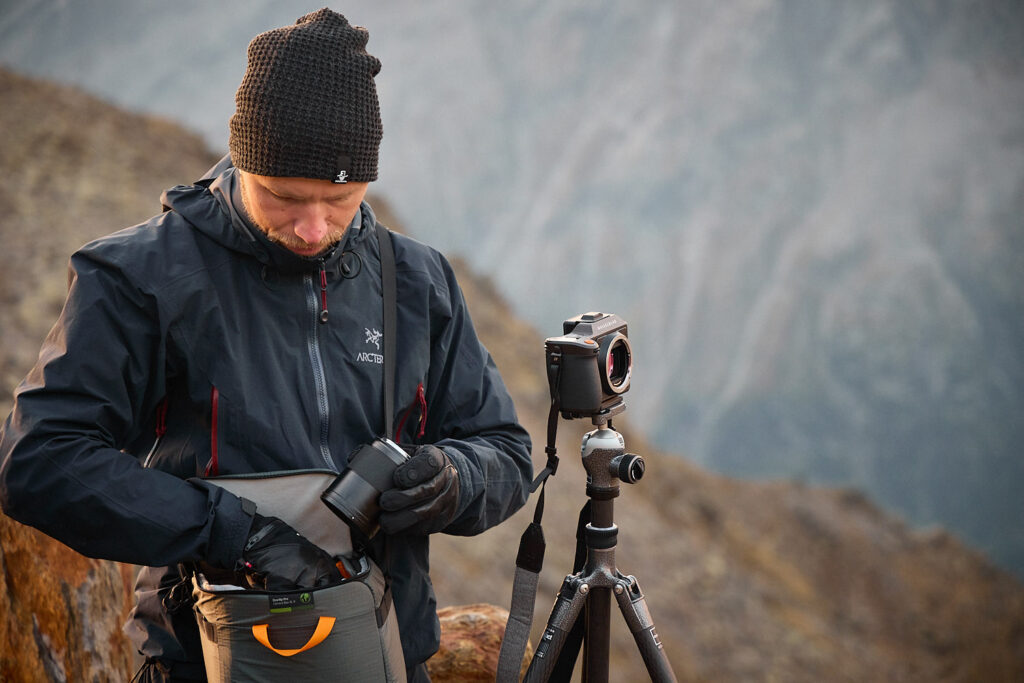 The GearUp Pro XL
The highlight of the backpack for me is the integrated GearUp pocket. It is used to cushion the photo equipment in the backpack and allows access from the front or back of the backpack. The GearUp Pro XL (can also be bought separately) that comes with the backpack has enough room for my Hasselblad X2D, four lenses, a set of lens filters, and small items like batteries and the camera strap. The special feature is that you can also use the bag separately from the backpack. With the included carrying strap, it becomes a sling bag in no time and was my companion at all times, once I had arrived at the summit. The heavy backpack I then immediately put down in the tent or accommodation and was only with the small bag on the road. The GearUp Pro XL has a top and side access and is thus very easy to use both while carrying it, as well as on the ground.
Lowepro sent me the bag for my latest trip as a free review unit with no conditions attached. I received the bag in size S/M and as a relatively lean male at 1.85m/ 6.1ft height I could adjust the bag very well to my body. Lowepro also has a very good video about fitting the bag to your individual needs on their website.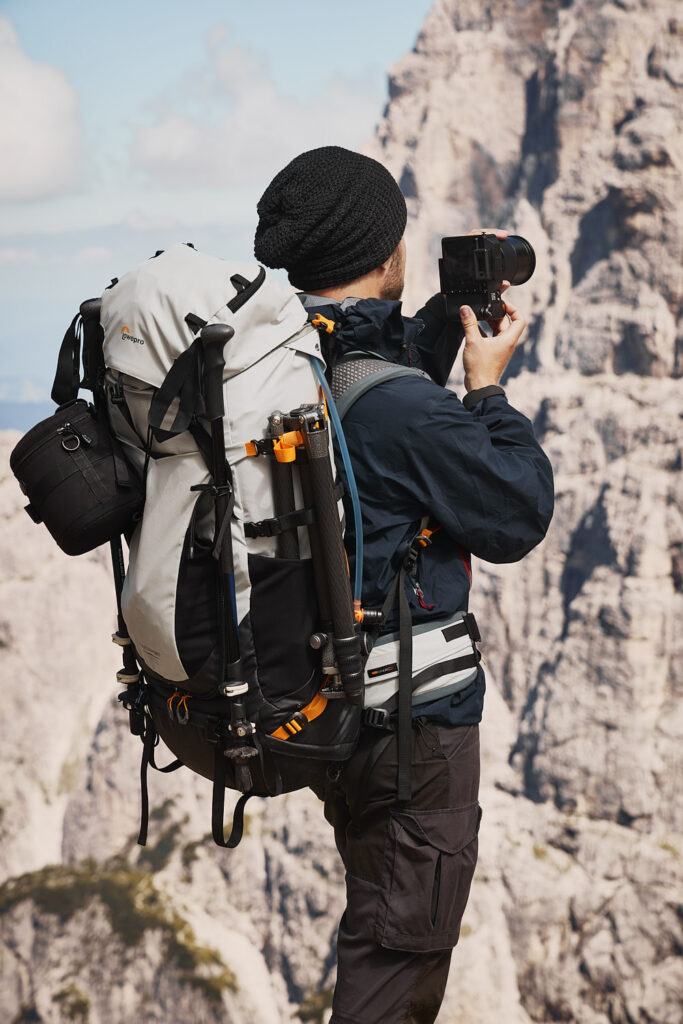 To sum things up, I have to say that the PhotoSport Backpack Pro 70L AW III is perfect for multi-day photo shoots in the outdoors. It holds a lot of outdoor equipment while also protecting your camera essentials. We had three backpacks with us on our latest trip through the alps and I never wanted to switch my backpack once. This is saying a lot. Although one caveat of lugging so much gear around is the limited mobility. I had some climbing parts and very tight trails where I felt uncomfortable with such a big and heavy backpack that was pulling me away from the mountain wall. But this is the fate of such productions.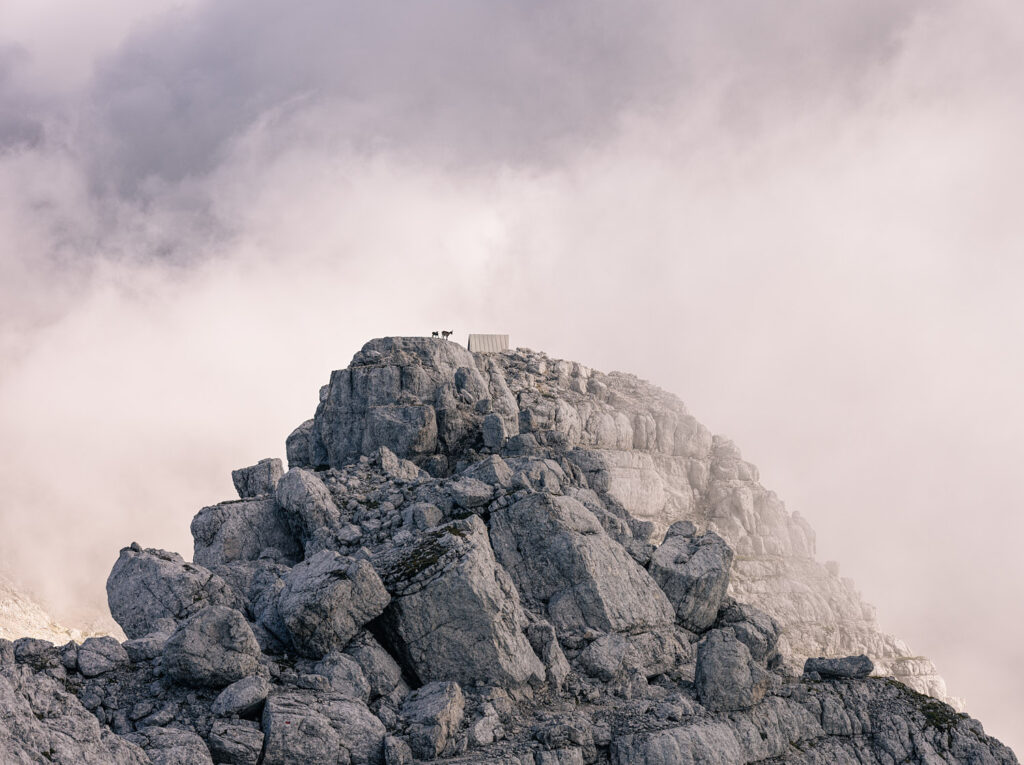 [ad_2]

Source link