[ad_1]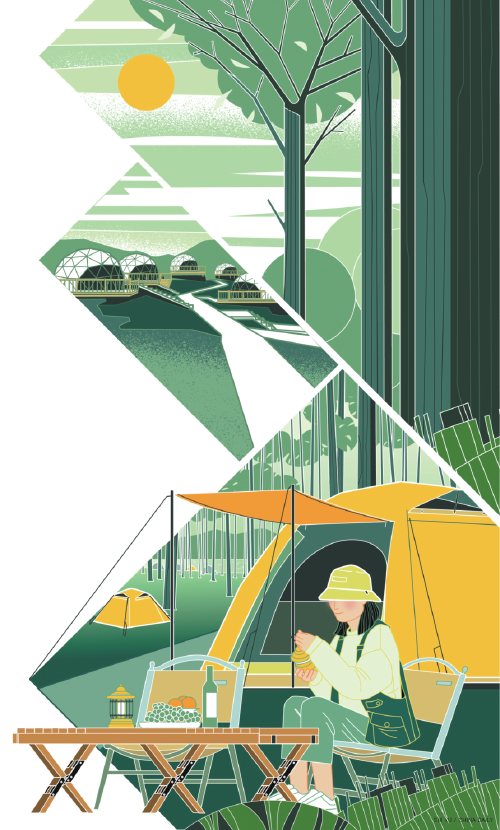 Measures promote growth as activity gains popularity with Chinese travelers
China recently released a guideline to encourage the orderly development of camping as interest in the activity grows and as more camping equipment becomes available on the market.
The guideline, which was released by 14 central departments including the Ministry of Culture and Tourism, the Ministry of Natural Resources and the National Development and Reform Commission, is aimed at promoting a healthier, environmentally friendly travel experience and expanding tourism and leisure.
Under the guideline, tourism authorities are required to plan camping sites in a more scientific manner with adequate infrastructure and fully equipped facilities. Urban parks are encouraged to open grassland, and unused areas to day campers.
In addition, golf courses and rural homestays that go out of business are encouraged to use their land to offer camping services to travelers. Tourism sites, resorts, rural parks and sporting grounds can also offer space to campers.
More diversified camping sites, such as those that can accommodate travelers driving recreational vehicles, will also be made available to the public, and tourism companies and camping sites operators are encouraged to introduce cultural elements to their services to enrich the experience.
The guideline also outlined management requirements. Operators should obtain health, food and fire safety permits and endeavor to better ensure personal safety.
Camping site operators are also required to sell products or offer services with clearly marked prices and precise information.
Dai Bin, president of the China Tourism Academy, said that the reuse of land that was once home to failed business ventures such as golf courses and rural homestays will help meet the demand for campsites and also help create a new tourism and leisure landscape.
China has seen rapid growth in camping tours as well as the camping economy, which used to be a niche activity among young people.
Sun Jiandong, president of Sunarea Group, a tourism company focused on outdoor leisure activities in Beijing, said in an interview with the tourism ministry's news outlet China Culture Daily that he has witnessed the development of the camping industry over the past 16 years. He said that in the past, the camping park his company operates only had about a dozen sites for campers, but now it has 300.
Sun said that people who camp can make better use of the natural resources in rural areas, breathing life into an industry that could motivate talented young individuals to stay in their hometowns to work and develop their local economies. He said that the guideline provides sound support to the camping industry's future development by helping regulate concerns such as fire safety and land use.
Fang Zexi, an analyst from Trip.com Group, an online travel agency, said the company is reaping the benefits of the growth of camping. She said that orders for camping products on the platform were 30 times higher this year than in 2021, and the average amount of money spent on camping offerings is 1,027 yuan ($143.6), a year-on-year rise of over 10 percent. So far, the platform is offering camping in 152 domestic cities.
Consultancy company iiMedia Research, which is based in Guangzhou, capital of Guangdong province, has a bullish outlook for China's camping economy.
It said that the domestic market value of camping-related products increased to 16.8 billion yuan in 2020 from 7.7 billion yuan back in 2014, with a compound annual growth rate of around 13.9 percent over the period. It estimates that the camping market will be valued at about 35.46 billion yuan this year, thanks to the current preference for short-distance trips and the intimacy of nature.
Jinlv Consulting, a travel research agency, projects even more ambitious development of the sector in the coming years. In a recently released report, the agency stated that the domestic camping market is stronger than ever this year and will continue to grow rapidly in the near future.
It predicted that the domestic camping market will be valued at over 178.1 billion yuan by the end of 2023, up 46.3 percent year-on-year.
Naturehike, a company focusing on sales of camping and outdoor gear in Ningbo, Zhejiang province, said that the business first boomed in February 2020. Hong Chen, the company's sales manager, told Xinhua News Agency that the annual growth that year was about 40 percent higher than in 2010, the year the company was established, while revenue growth was 100 percent higher than in 2019.
Hong said that the company's sales volume in the first quarter of this year saw a year-on-year increase of 160 percent, and it projects a sales volume of over 1 billion yuan this year.
chengsi@chinadaily.com.cn
[ad_2]

Source link