[ad_1]

The build-up to Christmas has well and truly started: the Advent calendars and seasonal products are appearing in the supermarket, there's a Christmassy chill in the air… and it's time to plan a December excursion to explore Europe's atmospheric Christmas markets!
Why settle for seeing just one, when you can go on a road-trip of the best that Europe has to offer?! Seize the opportunity of low-season prices to try out motorhome or campervan rental.
Of course, you could also take the car, or trains, from place to place and stay at a cosy chalet at a campsite. Whichever your mode of transport, the return of Christmas markets is a good excuse to visit a few great winter destinations.
Read on to find out about some of the lesser-known and best Christmas markets in Europe and practical information you might need to visit them in a campervan.
Why make your Christmas market break into a road-trip
When we think of road-trips, be it in a campervan or a car, our imagination tends to take us along sunny roads and campsites in the mountains or near the beach. Yet a winter road-trip planned around Christmas markets is a great idea too. Here's why:
Flexibility: with a home on wheels, you have the freedom to stay for as long or short a time at each destination as you like.
Experience: travel by road allows you to take in several markets in the same trip, and also discover beautiful winter landscapes along the way, along with local traditions, food and cultural attractions in more than one country.
Savings: hotels in the Christmas and pre-Christmas period can be quite expensive, so choosing to park your camper or rent a chalet at a campsite can reduce costs significantly.
Christmas markets in Italy
You may not find these in the usual Top 10 Christmas Markets lists, but let's begin our journey into the magical world of Christmas markets in Italy, because, after all, it is a country of world-renowned culinary delights and romantic locations. Pannetone is of course the culinary symbol of the festive season in Italy – but, from chestnuts to chocolate, there's much more to taste and take home as Christmas gifts that nobody will want to regift!
Verona Christmas market
The "city of love" par excellence becomes even more romantic with the lights and decorations of the Christmas season. The Verona Christmas market, open from 18 November to 26 December, offers cute crafts, local food and wine, workshops and activities for children, one of the largest nativity exhibitions in Europe, music and much more.
Children will have to visit Father Christmas's glittering house in the Cortile Vecchio, while adults might consider lacing up their runners for the Christmas Run, a funrun with 5 or 10 km options.
Leave your camper van outside the city and head into the historic city centre on the dedicated shuttle bus, to explore stress-free. Make sure to pick up a Market Passport at the tourist information centre: if you visit every attraction on your passport, you will receive a special souvenir of your visit to Verona.
Bolzano Christmas markets
Open from 25 November to 6 January, the Bolzano Christmas market is a feast for young and old. Amidst cinnamon drinks and homemade sweets, the city lights up and fills with decorations and wooden huts, Christmas carols and traditional delicacies.
There are lots of activities for children, for example an ice-skating rink in Piazza Municipio, a mini world of ice sculpture in Capuchin Park, and a carousel and little train in Piazza Walther. Grown-ups, on the other hand, can enjoy literature, at the 'A Christmas of Books' event, where various (Italian and German-language) bestsellers will be presented.
Take advantage of your break and stay at a campsite in the surrounding valleys to explore not only the city's markets, but also the surrounding lakes and mountains, enjoying a few bracing winter walks, followed by warming hot chocolates. We can recommend Camping Vidor Family & Wellness Resort, in the spectacular heart of the Dolomites yet less than an hour from Bolzano. As well as campervan pitches, you'll find one, two and three-bedroom apartments in typical Alpine houses and chalets.
You can also visit the Christmas markets of Trento and Levico Terme from your base here (they are about an hour and half's drive away) and even the one in Innsbruck, with plenty of stops to enjoy the snowy mountains en route.
Trento and Levico Terme Christmas markets
Get two for the price of one with the markets of Levico Terme and Trento, staying a few nights at one of the campsites in the area that stay open in winter.
The Levico Terme market is held from 20 November to 6 January in the Secular Park of the Habsburgs. On the opening day, spectacular re-enactments of the Habsburg period are held with parades and court dances in costume. The market offers traditional flavours and family events like a small animal farm, Father Christmas and the Elves' Village. In the centre of Levico, on the other hand, you'll see local crafters and sculptors in action, transforming wooden logs into characters, for the city's nativity scene.
If that's not enough Christmas for you, hit the Trento market too. It's open from 19 November to 8 January in Piazza Fiera and Piazza Battisti. Combine the markets with exploration of the enchanting city centre and get your fill of Christmas atmosphere.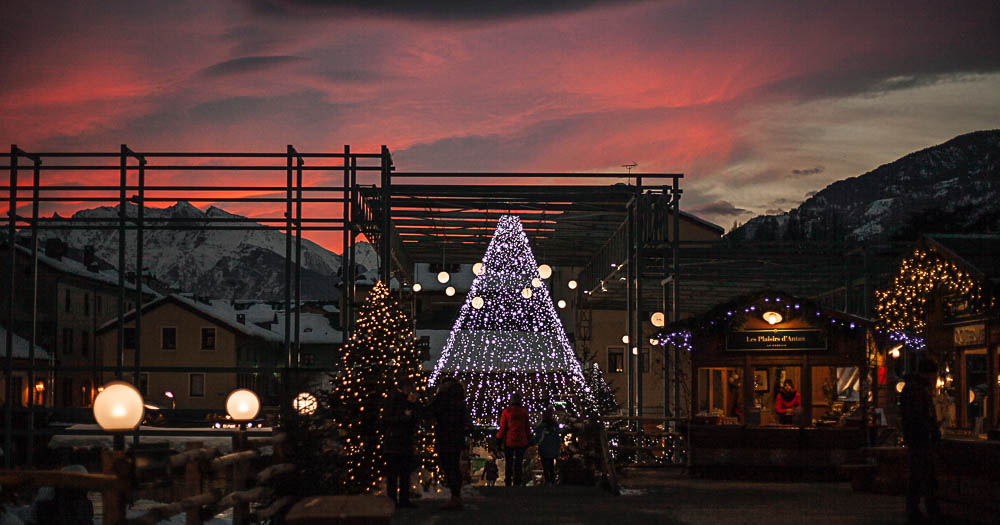 Aosta Christmas markets
The Aosta Valley is the perfect place to enjoy the Christmas markets, with pretty mountain villages and fun in the snow to occupy the rest of your time. As a base, have a look at Camping Tunnel International, in the heart of the mountains of the Aosta Valley, surrounded by 3000m peaks, yet only half an hour from Aosta town. As well as pitches, you can rent cosy little glamping pods, classic caravans or practical mobile homes.
As for the markets: from 19 November to 6 January, the town of Aosta's three main squares come to life, amidst evocative lights and wooden chalets selling typical local gastronomic and craft products, such as candles, ceramics, handmade wooden objects, soaps, boiled wool and felt clothes, and much more.
Christmas markets in Austria
Innsbruck Christmas market
One of the most atmospheric cities in the Austria is the Tyrol town of Innsbruck. It hosts a picturesque Christmas market focusing on folk art from 15 November to 23 December. In addition to the 70 stalls, accompanied by traditional trumpeter music from the Golden Roof, a viewing platform offers a view over the rooftops and the light-flooded square.
The city is also home to a variety of other markets: the family market on Marktplatz, the panoramic market perched in the Hungerburg district, the art market on Wiltern Platz, and the smaller market in the quieter and more authentic St. Nicholas district.
With the kids, take a stroll down Kiebachgasse, transformed for the occasion into a fairytale alley with many characters making appearances on facades and gables. And while you're at it, take the opportunity to also explore the old town, Ambras Castle and take one of the funicular railways that overlook the mountain landscape all the way to the Italian border!
Salzburg Christmas market
One of the oldest and most traditional in Austria, Salzburg's Dom and Residenzplatz market attracts large crowds every year, with its romantic cathedral backdrop and local products. For a panoramic view of the city, you can instead visit the Hohensalzburg Fortress Market, featuring choral music, local handicrafts, delicacies and 100 spectacular 'Herrnhuter' stars that light up the courtyard in a striking manner.
Take advantage of being on a road-trip to also visit other smaller markets in Austrian villages, enjoy the snowy landscapes and pretty villages. Choose a quiet campsite outside the cities.
Our accommodation pick in Austria is Campingplatz HOC Hoben in Mallnitz in Carinthia. Situated at an altitude of over 1,200 metres, in the middle of the Hohe Tauern National Park, one of the most impressive hiking regions in Europe, this campsite has stunning modern wooden chalets with every comfort you might need, as well as campervan pitches. Make sure to plan a day or two here on either side of your market visits!
Christmas markets in Switzerland
Montreux Christmas market
Overlooking scenic Lake Geneva, the Montreux Christmas market is one of the most unusual and underrated we have come across. As well as strolling along the lakeside, dotted with over 170 chalet-style stalls, in search of the best treats, Montreux has a host of amazing events in store for you and your family.
Take the kids to the Elf Village, packed with interactive workshops including activities such as candle making or chocolate decorating, before boarding the little cogwheel train (reservation required) that will take you to Santa's Secret Grotto and Santa's house itself.
Another market not to be missed in Montreux is the one held in the medieval castle of Chillon, which looks very like the castle of Prince Eric from The Little Mermaid…. The castle is transformed into a veritable medieval citadel, with craftsmen, inns, minstrels and storytellers.
In Switzerland, we can suggest staying at Camping Lac des Brenets, which offers caravans and mobile homes to rent, if you're sans campervan. It is in the beautiful Jura area, about two hours' drive from Montreux, along the shores of Lac Leman and Lac Neuchâtel. Make sure to leave extra time to stop off at lovely Lausanne and perhaps for a lakeside stroll.
Another option is to choose a campsite on the French side of Lake Geneva, just a few kilometres from Montreux, or even to visit this lively lakeside village from your base at the campsite in the Aosta Valley in Italy, described above (about 90 minutes' drive).
Christmas markets in Germany
Munich Christmas market
You can easily combine a visit to the Austrian or Swiss markets listed above with Munich's Christmas market. This market adds an unusual twist to tradition. Apart from the market par excellence at Marienplatz, don't miss:
the mini-Christmas Village inside the Royal Palace
the Tollwood Winter Festival, an alternative market dedicated to street theatre, organic food and environmental activities
the Wittelsbacher Platz medieval market, where you can buy horns and drink from clay goblets
the fairytale bazaar, for daydreaming and buying unusual gifts for the whole family
admire the illuminated main square with its Christmas market stalls from above.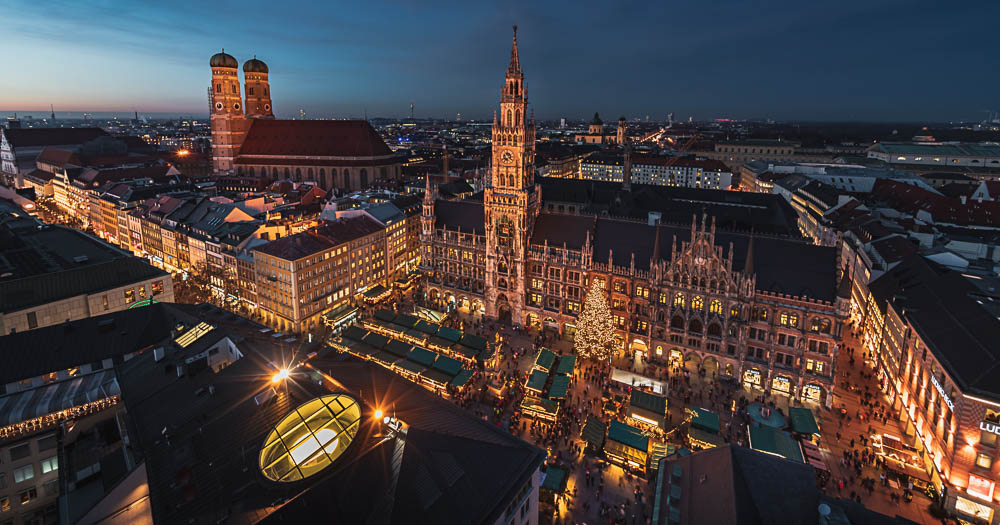 Christmas market in Cologne
Cologne takes its title of "Cathedral City" seriously and puts on a great show of festive decorations and entertainment, all with the impressive cathedral as a backdrop. There are several markets within the city, each devoted to a different theme and offering both arts and crafts and culinary delights. There are also smaller neighbourhood markets outside the centre, in the various city quarters or "Veedel" . Some showcase goods from local businesses, others only sell culinary specialities, etc.
While there, take a trip on the Rhine to enjoy the Christmas lights from the water, visit the Christmas Garden at Cologne Zoo, and book a circus or concert performance. The Cologne Christmas markets 2022 run from 21 November to 23 December.
To enjoy the underrated German countryside on your trip too, you could stay at Hof Biggen, about an hour away, in a valley by Lake Biggesee with beautiful views. If you're not travelling in a camper, you can rent a caravan onsite.
Christmas markets in France
Christmas market in Colmar
Enchanting at any time of year, when it dresses itself up in Christmas lights and decorations, Colmar becomes simply irresistible. Its 6 markets, brightening up the Old Town with colours and flavours, unfold like mini-villages, each with a different theme. Let's take a look at the most unusual ones:
the Place de Dominicains market is dedicated to the arts and crafts of Alsace. Here you will therefore find works by master glassmakers, jewellers, painters and much more
the Place Jeanne d'Arc market is all about typical Alsatian food and drink products: from biscuits to traditional grappa, from cured meats to wine
la Petite Venise (Little Venice), the children's market along the banks of the river, boasts an assortment of toys, workshops and drinks designed especially for the little ones
the Koïfhus covered market hosts the works of local artisans and craftswomen. Discover the creation process behind the activities of potters, glassmakers, hatters, cabinetmakers, to name but a few.
Very near Colmar, you can stay at Camping Verte Vallée year-round. You can choose from a vast range of on-site accommodation options including cute eco-pods in different sizes, tipis, spacious safari tents, practical mobile homes and caravans – as well as of course pitches for campervans.

Christmas market in Strasbourg
Strasbourg has one of the oldest Christmas markets in France, dating from the Middle Ages. The first market (called Christkindelsmärik: market of the baby Jesus in Alsatian) took place in 1570 in Place Broglie. It was the place to get your gingerbread, herbs, candles, and everything else you needed for Christmas. It still is, but today you can find lots more typical food and drinks and local and artisan products too.
There are in fact 11 markets, all located on the Grande Île. You can walk from one to the other in just a few minutes. As well as the markets themselves, don't miss:
the Promenade aux étoiles illuminations: A route of more than 600 stars highlighting the historical and architectural heritage of Strasbourg, across the Grande Ile. This route starts in Louise Weiss Square and ends at the Sainte-Madeleine Bridge.
the crib at the cathedral: This 18-metre crib dating from 1907 is enchanting. You can admire it in Strasbourg's Notre-Dame Cathedral, at Place de la Cathédrale from the end of November until early January.
the famous tree and ice rink at Place Kléber: One of the main squares in Strasbourg hosts the famous 30m-high Big Fir Tree every year and an ice rink.
Visiting the Alsace Christmas markets by camper van is very easy, thanks to the well-equipped campsites in the area that are open in winter. We recommend in particular staying at Camping de Strasbourg, in an exceptional location in the heart of the city's Urban Nature Park. This campsite has beautiful modern, wooden mobile homes and cabins of different sizes, as well as glamping tents and pitches.
Lyon Festival of Lights
Although it doesn't really fall into the traditional Christmas markets category, Lyon's festival, which usually takes place in the second week of December, is one of the most eagerly-awaited festive season events in France. It's a four-day festival during which the city is lit up by all sorts of different creations: lighting, video and graphic artists, designers, architects and street performance troupes all play their part. Read our full article about the Lyon Festival of Lights.
You could stay at Camping de Lyon, in an old-style wooden caravan, cabin, glamping tent or pitch for your campervan, or at Camping des Barolles, with modern mobile homes and pitches. Both are less than 10km from the city centre.
Well, we hope to have intrigued you with our suggestions for the best Christmas markets to visit by campervan and inspired you to plan a magical winter holiday in the great outdoors! Rent a campervan, book one or two of the campsites and plan your route between them. Don't forget to share photos and videos of your magical winter experience with us on social media 🙂
[ad_2]

Source link