[ad_1]

A holiday off the beaten track in Europe is a great way to escape the modern world, reconnect with nature and embrace cultures beyond those we're most familiar with.
For those not au fait with the terms 'off grid' or 'off the beaten track'… simply put, it means a non-conventional holiday, often in a secluded destination.
Whether you're looking for a remote getaway in rural Italy, or a quiet break in the French countryside, going off grid offers something unique and unforgettable. A sense of freedom, privacy and serenity that is entirely unmatched. 
The advantages of taking an off grid holiday are endless and encourage us to escape the hustle, bustle and pollution of city breaks, reconnect with ourselves through solitude and nature – and enjoy new experiences in unique places.
Oh, and it's a great talking point too. Because, who wants to hear another story about a package holiday in Tenerife?!
Some of the best destinations for an off grid holiday are in Europe, like France, Spain and Slovenia – each offering its own distinctive range of landscapes, activities and experiences. Staying in open-air accommodation gives you greater access to these secluded spots too.
So, if you're ready to unplug from everyday life and step into the unknown, then take a look at 10 of our favourite places. 
Ecrins, France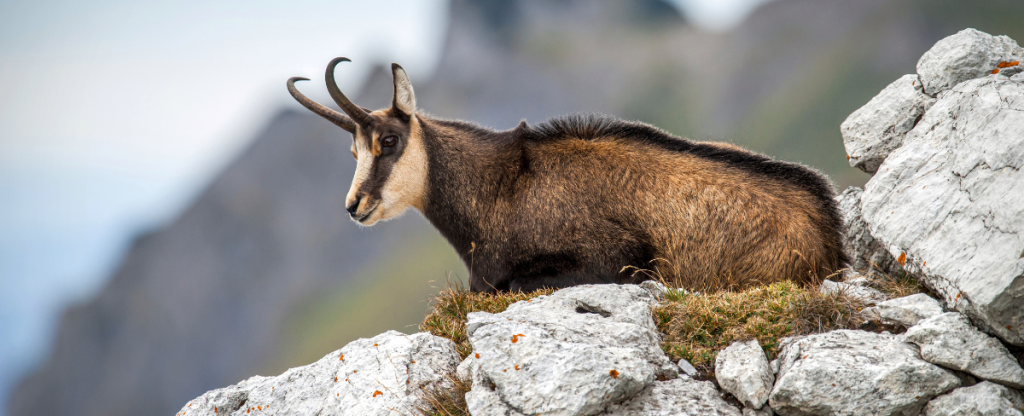 Great for: Adventure and aloneness in the Alps
Looking for an off grid natural hotspot? How does 130,000 hectares of remote, protected parkland sound? A land filled with snow-capped peaks, glacier lakes, alpine forests, limestone cliffs and water falls? 
Ecrins National Park is a hiker's dream, and visitors are blessed with numerous mountain trails of varying difficulty and length. And, with views like that, it's no wonder the French Alps is a destination of choice for those seeking solace away tourist-heavy cities and suburbia. 
The park has biodiversity unmatched in Europe, welcoming over 800 animal species – and twice as many species of plants living within it's boundaries. You may even be lucky enough to spot an endangered marmot, chamois or brown bear!
Open-air resort / Campsite near Ecrins
Au Valbonheur (Camping le Plan d'Eau)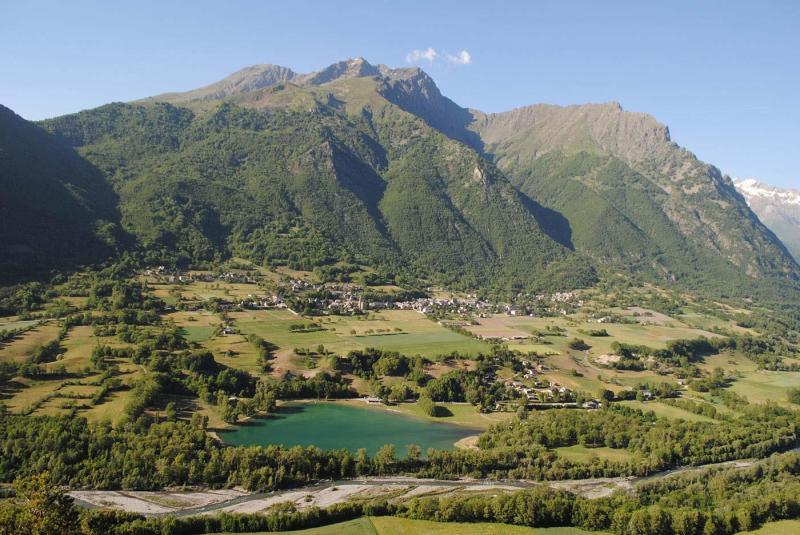 Relax lakeside at an oasis right on the doorstep of Ecrins National Park, at this campsite with its own private beach and plenty of on-site activities and amenities.
You'll have access to up to 150m2 of private land and can choose to stay in a unique, eco-glamping pod, or bring your own shelter and pitch up a tent, with access to all the neccessities to keep you clean, fed and entertained. 
Soča Valley, Slovenia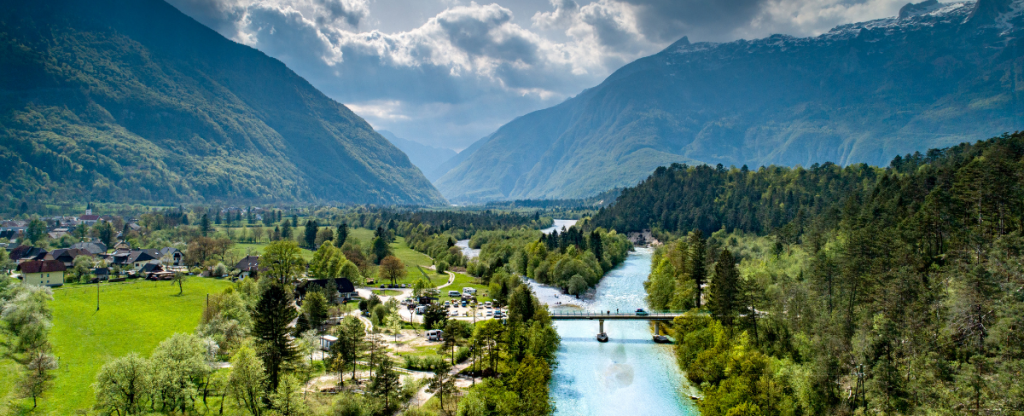 Great for: Getting lost in nature
Slovenia continues to grow in popularity and is fast becoming a fan favourite for nature lovers and outdoor enthusiasts alike (and yes, it absolutely deserves to!). The good news is that there are still so many areas lovingly preserved and considered 'off the beaten track' – and the spectacular Soča Valley is no exception! 
Located in a picturesque area between the Julian Alps and the Adriatic Sea, Soča Valley is known for its turquoise waters, stunning mountain views and boasts an abundance of wildlife, including chamois, marmots and many species of birds.
The unique landscape makes exploring by foot or bike a dream, so be sure to pack well for a day of exploring jaw-dropping nature, which changes beautifully as the seasons pass.
Open-air resort / campsite near Soča Valley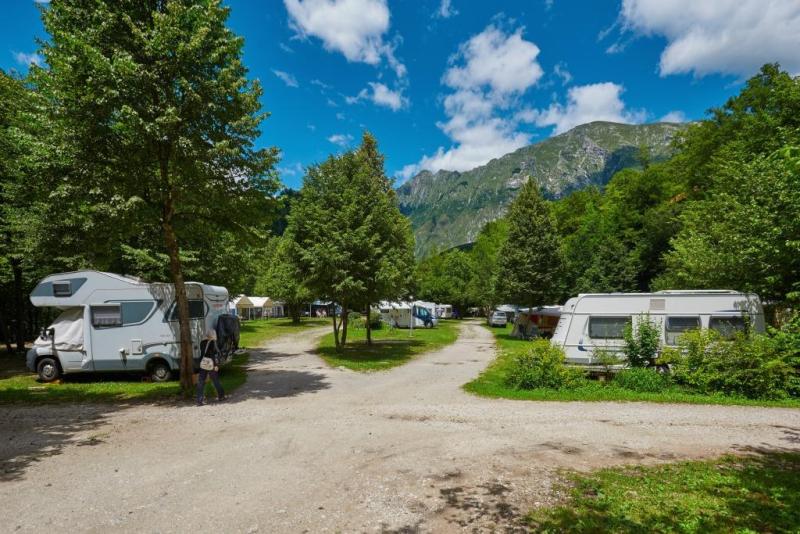 This charming open-air Eco resort sits at the base of the Soča Valley mountain range and offers environmentally-friendly rental cabins and camping pitches with a glorious backdrop of nature. Here you can book activities like paragliding, kayaking, hand gliding and mountaineering.  
Quedlinburg, Germany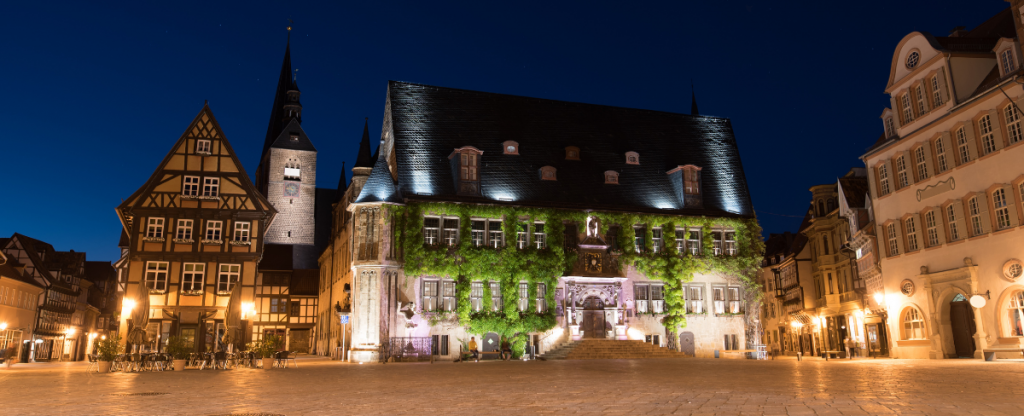 Great for: Whimsical wonders through time
Known as one of the best-preserved medieval and renaissance towns in Europe, Quedlinburg is pure class and culture, from it's traditional timber houses, to it's cobbled streets and historical attractions, like Quedlinburg Castle and the Schloss Museum (which houses century old artefacts).
We love that Quedlinburg isn't as popular as other German towns, despite it being laying claim to some really cool happenings in history, like the first house in Germany being built here in 1300 – and that the town was once ruled by women for 800 years!
There's also lots of open-air adventure to be had on nearby circular walking & biking trails, like the Selke Valley Trail covering over 69km of diverse landscape at the foot of the Harz mountain region. With enchanting forests, traditional German houses and snow capped hills, they area is often referenced in German fairy tales. 
Open-air resort / Campsite near Quedlinburg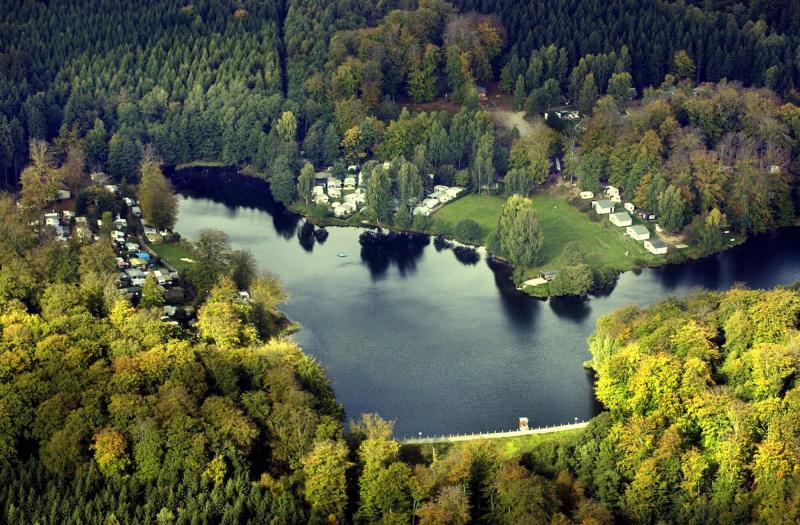 This stunning, lakeside campsite is camouflaged by it's surrounding woodland and offers the chance to wild swim in shallow waters with the whole family.
The retreat offers an inexpensive camping experience, with options for tent pitching or renting a wooden chalet amongst pine trees.
Mallnitz, Austria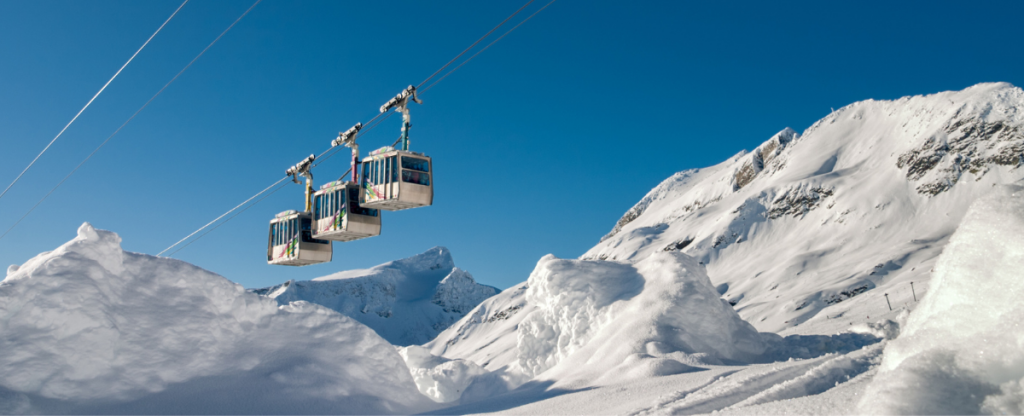 Great for: Avoiding the ski crowds (but close enough to the action)
Off the beaten track, adventure seekers, behold the quaint town of Mallnitz, an exciting place situated in the Hohe mountain range. It's our destination of choice for year-round access to ski resorts, hiking trails, mountain biking, canyoning and other adrenaline-pumping activities. 
Mallnitz also doubles up as haven for travellers seeking peaceful atmospheres, away from crowds, in an abundance of nature, or culture. You can wonder the calm cobblestone alleys of the town, visit local stores selling artisan goods, or enjoy a stroll along the nearby Reschen River, with the Majestic Alps as your backdrop. 
Looking to hit the slopes? The nearby ski resort of Ankogel, has over 12km of skiable terrain, with elevations of up to 2650km and 5 ski lifts. You can ski here between mid December and late March.
>> Read our guide to booking a family ski holiday on a budget <<
Open-air resort / Campsite near Mallnitz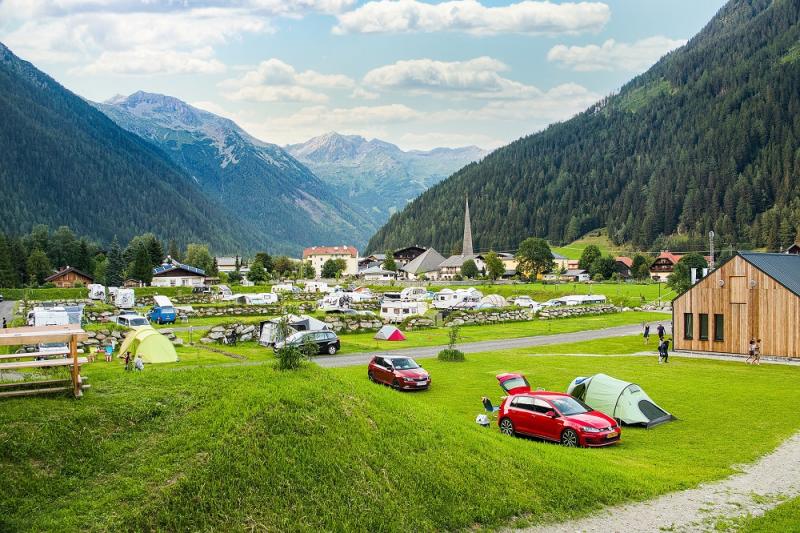 This camping-and-glamping resort is located near the Hohe Tauern National Park and provides access to a vast number of natural landscapes, with fewer than 1000 inhabitants. It's far enough from civilisation to relax in peace and quiet, while being close to mountain life activities and more. 
Rosengarten Massif, Italy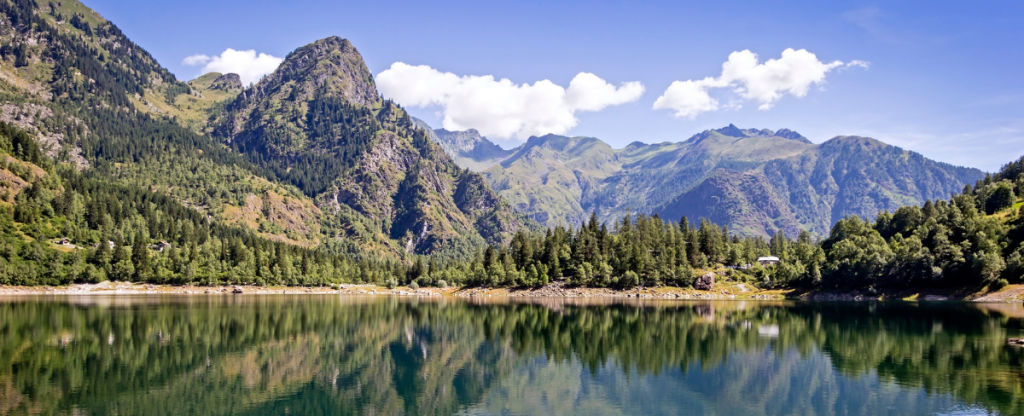 Great for: Meaningful mountain escapes and monastic charm
It doesn't get much more off-grid, rugged and ravishing than the Dolomites! And the Rosengarten Group is one of our favourite sub-ranges in this epic mountain attraction of Italy.
Cool fact: "Rosengarten," meaning 'Garden of Roses,' refers to the warm, pinky hues produced by the dolomite rocks that shower the land, near sunset. 
It's quite possible to traverse the peaks, valleys, lakes and bountiful countryside here without crossing more than a handful of people on your way through. But, if you need a bit of human interaction to balance out the seclusion, the charming little city of Bolzano, with it's unique architecture and alluring vineyards, is well worth a visit. 
Open-air resort / Campsite near Rosengarten Massif
Camping Catinaccio Rosengarten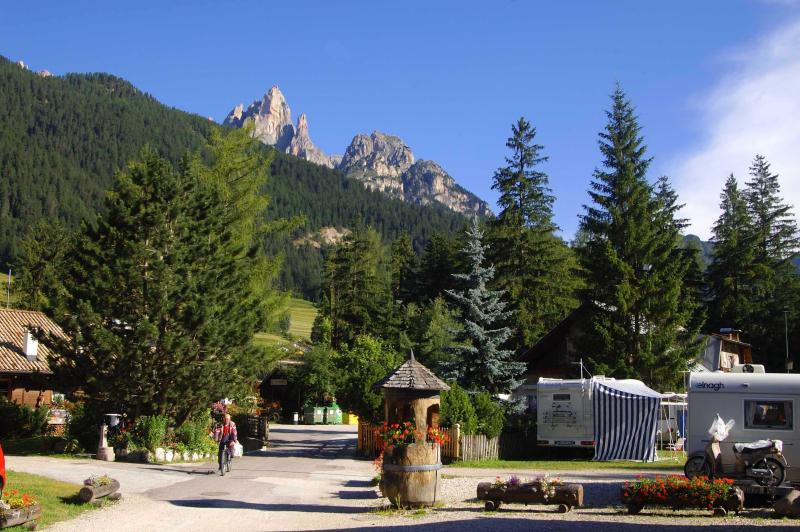 This family-run campsite is is hugged by the surrounding natural landscape of Rosengarten. The nearby River Visio is a great spot for wild-swimming and there's heaps of way-marked walking trails too. 
In peak season, the resort also puts on free music events for guests centred around Ladin culture. Choose to stay in a quirky, Italian bungalow or on a well-kept grass pitch. 
Overijssel, Netherlands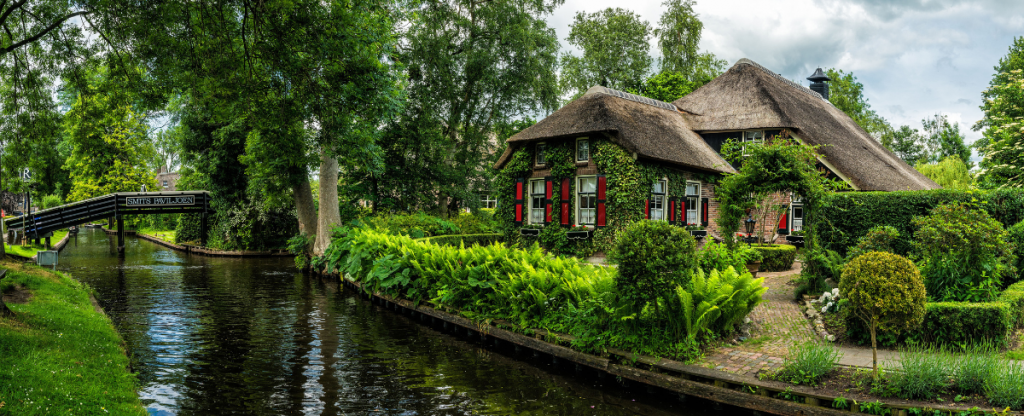 Great for: Escaping modernity and Re-wilding
Overijssel, one of the oldest provinces in Netherlands, is a peaceful place, far removed from the hustle and bustle of Amsterdam, Utrecht and other popular cities in the country. It's home to many interesting castles, cultural sites, quaint villages and natural playgrounds such as Sallandse Heuvelrug National Park and Dinkelland Natural Reserve.
Whilst here, you must visit Giethoorn, an idyllic village without streets in North Overijssel (that's right, no cars allowed!). The village is known for its canals and bridges – and some even refer to it as the Venice of the Netherlands.
Near to Giethoorn sits Weerribben-Wieden National Park, home to the largest continuous bog in Northwest Europe. Don't be put off by the thought of visiting a bog, the atmosphere here is totally tranquil, and the landscape consists of a variety of lakes, canals, moor woods and grasslands with abundant wild flowers.
Open-air resort / Campsite near Overijssel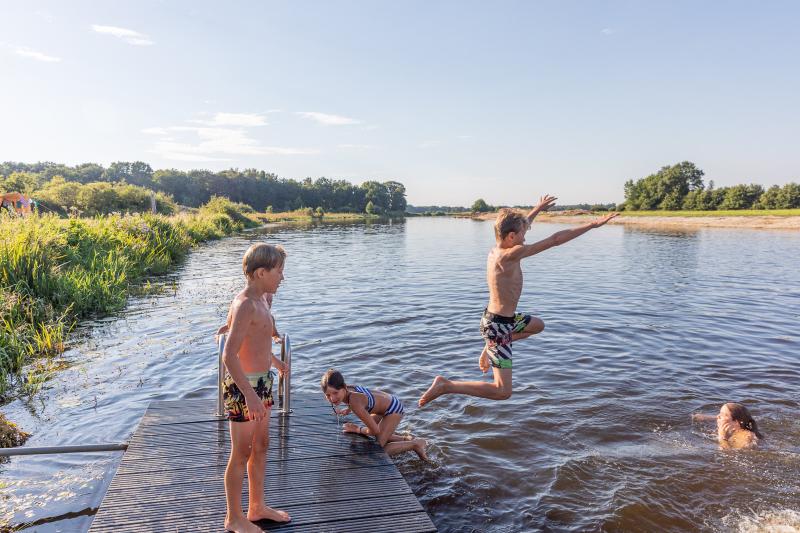 Relax in a stunningly scenic spot by the Overijssel Vecht River, in an unforgettable glamping or camping experience. This charming campsite is understated, letting it's spectacular surroundings bring an air of magic. 
There's over 300 pitches here for your tent or motorhome with top quality sanitary blocks at your disposal. Or you could rent a safari-style tent (with bedding included). 
Oix, Spain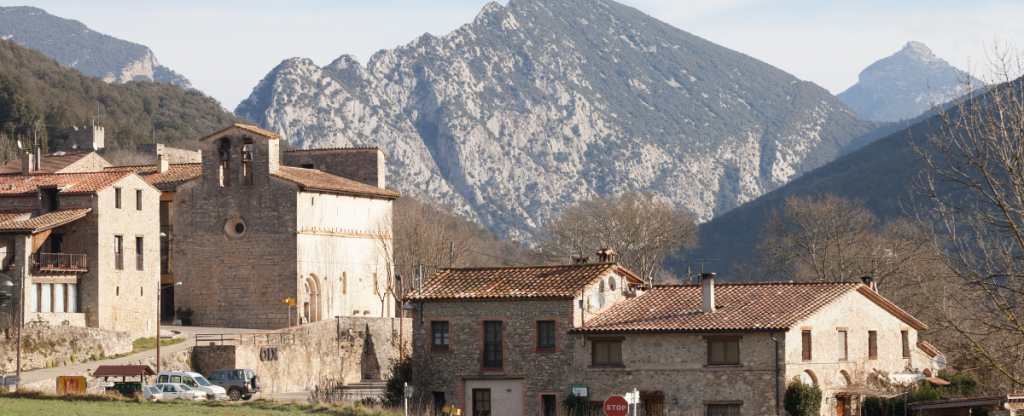 Great for: Calm countryside and channelling days of old
Just outside of the popular Spanish province of Girona lies a hidden gem of a village called Oix (well, Montegut i Oix, for those who remember life before abbreviations!).
This small, scenic village features a 15th century castle, romanesque churches and medieval bridges – and it's totally surrounded by off-grid countryside trails. 
There are at least 20 spectacular treks on your doorstep, where you'll encounter natural rock-pools, waterfalls, blooming rapeseed fields, local wildlife and truly unbeatable views of land and sky.
Open-air resort / Campsite near Oix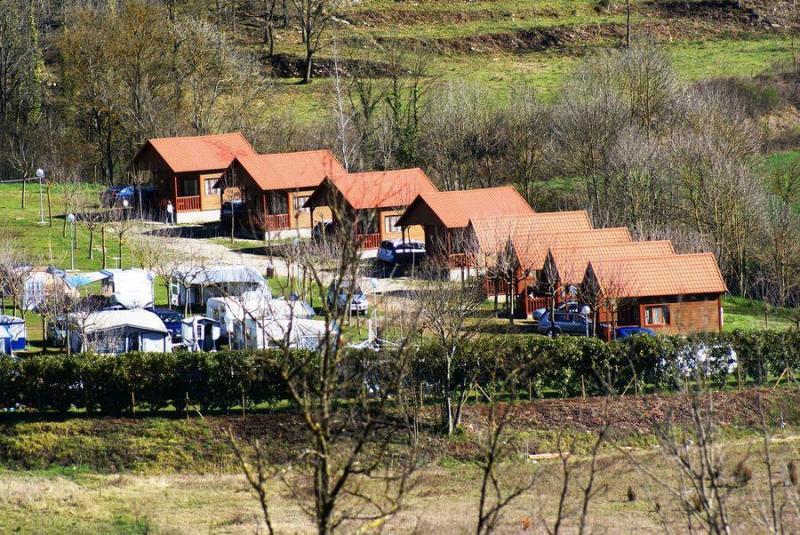 At this family-friendly open-air resort, you can enjoy all the natural beauty of Alta Garrotxa while taking part in activities like trekking, mountain-biking and horseback-riding. Or, just laze around in the camp's luxurious heated swimming pool, taking in all the goodness of the environment.
The site has over 80 camping pitches, with access to sanitary facilities and electricity hook-ups, as well as 8 self-contained bungalows. 
Rømø, Denmark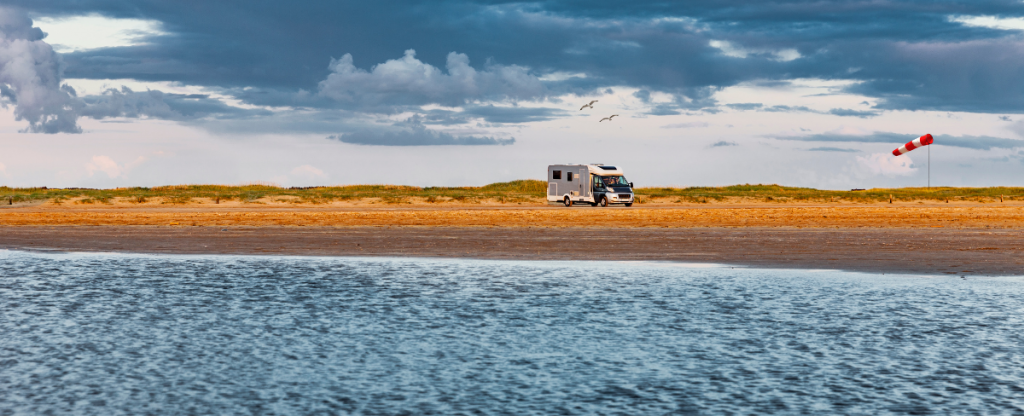 Great for: Island Isolation and wildlife discovery
Did you know that Denmark's oldest town, Tønder sits on an it's own Island? An Island no bigger than 130km2 and inhabited by less than 3,000 people to be exact. 
The delightful island of Rømø, in the Wadden Sea is a stripped-back, serene, slice of paradise and, whilst the beach here attracts a fair few Danish locals in the Summer, you'll be hard-pushed to find someone from your home soil who've visited this place (or even heard of it). 
The Island's history as a fishing village dates back to the 1400's and it's bio-diverse landscape and natural habitats attract distinctive wildlife, perfect if you're up for a spot of birdwatching, fishing, or just trekking the island seeking heavenly views.
For more off-grid fun, you can book boat trips to neighbouring islands, like Fanø where you may be greeted by a family of seals.  
Open-air resort / Campsite near Rømø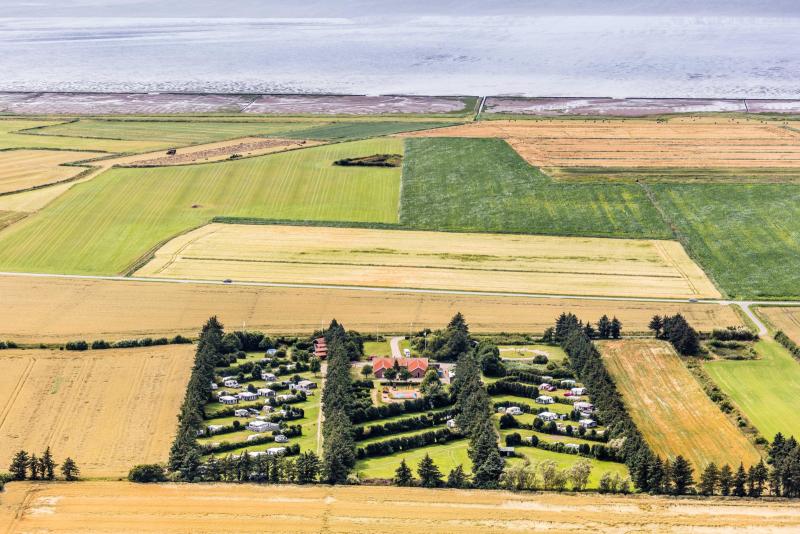 Just 20 minutes away from the Island of Rømø, this, this camping ground can be found hidden in the beautiful Marsch Country, famed for it's rich bird life – and close to the historic towns of Tønder, Ribe and Møgeltønder.
The on-site facilities offer modern amenities, ideal for both traditional camping and glamping stays.
The Ardennes, Belgium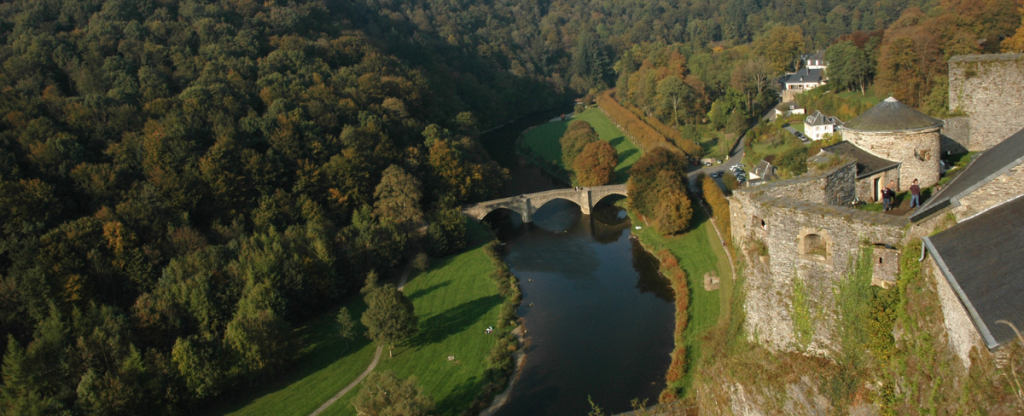 Great for: Unspoilt Nature and captivating culture
The Ardennes in Belgium is the off-grid answer to your quest for something truly unique. From the moment you step foot on this diverse, natural landscape, you'll experience rugged hills, expansive woodlands, wildflower-filled pastures and picturesque villages.
Here you can indulge in peaceful past-times like hiking, forest bathing and practice mindfulness with exceptional backdrops. Or, for something a more heart-racing, you can mountain bike, zip-line through the forest canopy, horseback ride or kayak on the Lesse River.
Don't miss out on the chance to visit important historical landmarks, like Bouillon Castle, Fourneau Saint Michel La Roche-en-Adrenne – and the Surrender of Napoleonic troops at Ligney. Or at the very least, grab a coffee on the cobble-stone lined streets Durbuy, an ancient town with the cutest cafés and rustic dining.
Open-air resort / Campsite near The Ardennes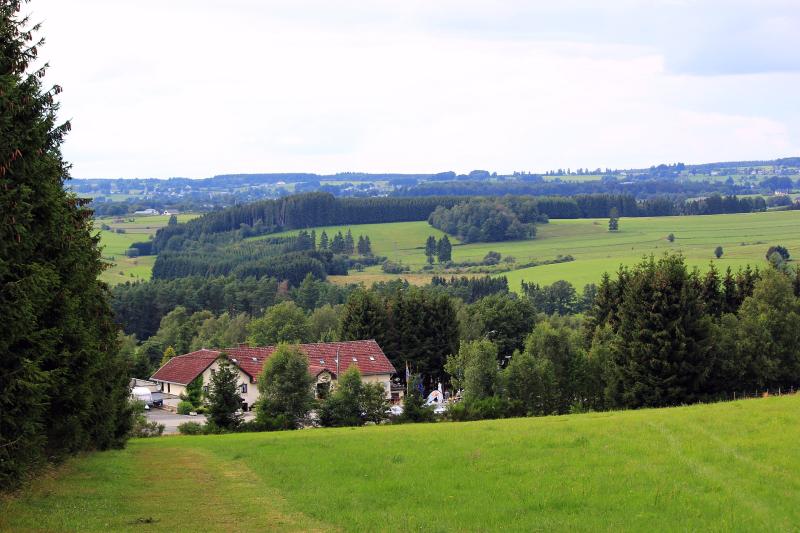 Stay away from the beaten track and bask in the fresh, open-air at this campsite located in the border triangle of Belgium, Luxembourg and Germany. There's over 350km of hiking trails circling the grounds, blessing you with far-reaching views and plenty of outdoor exercise. 
Pitch sizes range from 100 to 150 m², and spotless, modern facilities are a given. Just as they are in the mobile homes here, also available to rent. 
Monts d'Ardèche, France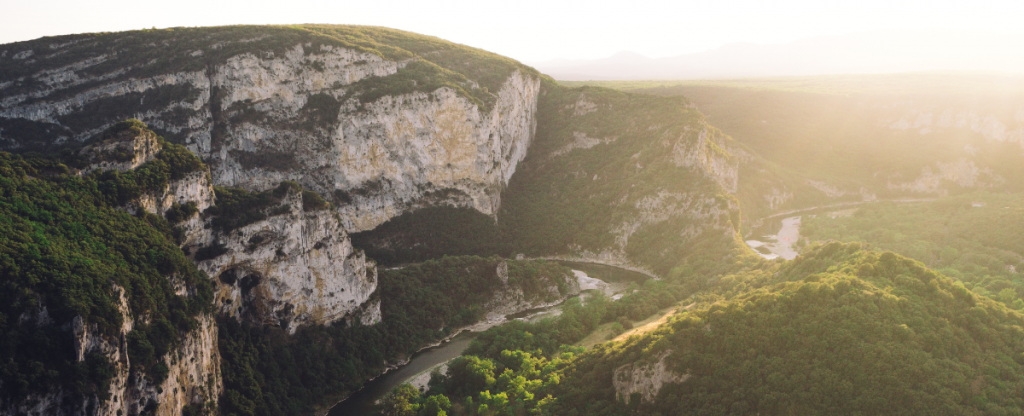 Great for: Rolling hill retreats and world-class wine.
Located in the Rhone-Alpes region, the area is renowned for it's mammoth rolling hills, lush forests, rugged mountains and wild rivers. The fresh air here is considered a tonic for the soul, and the area's outstanding natural beauty makes it a paradise for those looking for non-conventional open-air holidays.
Whether solo travelling, on a family adventure or otherwise, you can enjoy hiking, biking, climbing and, in certain areas, like the turquoise blue waters of Lac de Gerbier de Jonc, you can swim, fish or partake in water sports.
Let's not forget… the region's thriving vineyards. Here, some of France's finest vintages are produced, so you have our permission to sample as much as you can!
Open-air resort / Campsite near Monts d'Ardèche
This family-run, campsite is lovingly nicknamed the 'little corner of paradise' and offers chalets, mobile homes and caravan pitches with breathtaking views of the lake, mountains and vines. 
200m from here lies the medieval village of Desaignes, where you can explore its independent shops, medieval tours and horse-drawn carriage tours
Tips for Planning Your Off Grid European holiday
Planning an off grid holiday in Europe is super exciting, but preparation for this type of getaway is a lot more comprehensive than conventional travel planning. Here are some tips for making sure you get the most out of your experience:
1) Decide where you want to go
There are many popular destinations throughout Europe, from mountain ranges like the French Alps to remote villages in Holland. Consider the type of outdoor activities you want your holiday to include, decide on a suitable climate / time of year – and question your ability to get from A to B.
Remember: Holidaying in rural destinations may rely on more complex travel arrangements, so map your journeys well in advance). Read reviews and blogs that share other's experiences and recommendations.
2) Do your research on accommodation
Finding the best place to stay is both exciting and practical. Make sure your base camp is well within your budget and has all the amenities you need for a comfortable stay. If you're camping, make sure there is access to running water and other supplies you might need. If sustainability is high on your agenda, make sure to research the hosts eco-practices.
>> Read our guide on Eco camping 'How to camp sustainably' <<
3) Pack accordingly
If you're planning to travel by plane on a budget airline or backpacking from the nearest train or bus station, chances are you're already preparing to pack essentials only. Make sure you have the basics by way of clothing, toiletries and any relevant camping gear. Check and check again… It's highly unlikely you'll find a Spar shop or clothing store in the middle of a mountain range!
>> We've got hundreds of open-air accommodation available to book across Europe. BOOK TODAY <<
[ad_2]

Source link