[ad_1]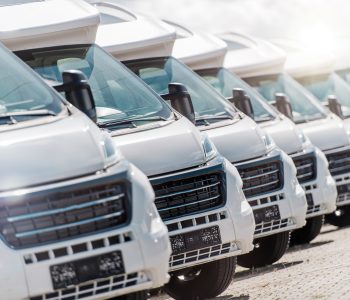 Why Investors Should Pay Attention to CWH Stock
Consumer cyclical stocks are economic bellwethers. If the economy is doing well, people are more than happy to spend their discretionary income or take on debt to buy things. When the economy is doing poorly or it looks like we're about to enter a recession, people tend to reign in their spending.
Right now, we're facing decades-high inflation, rising interest rates, and fears of an upcoming recession—perhaps not the best time to consider consumer cyclical or discretionary stocks. Nevertheless, many discretionary companies have been reporting record financial results and providing strong guidance.
The only thing they've been lagging in is share price. On the plus side, this makes their stocks more affordable. For instance, shares of Camping World Holdings Inc (NYSE:CWH) are down by 33% since the start of January.
Camping World stock's share-price losses are a little concerning, but they really have nothing to do with what's been going on at the company. The stock is being held back by overall investor sentiment (which is misplaced). That's not a bad thing for bargain hunters. The company has a price-to-earnings (P/E) ratio of 6.2.
Despite concerns about the economy and a possible recession in 2023, Camping World Holdings Inc reported record first- and second-quarter financial results and healthy third-quarter results. Moreover, the company has been growing its business through strategic and opportunistic recreational vehicle (RV) dealership acquisitions, all while tightening its spending and capital expenditures.
On top of that, CWH stock pays reliable, inflation-crushing, ultra-high-yield dividends.
About Camping World Holdings Inc
Camping World is America's largest retailer of RVs and RV-related products and services.
The Illinois-based company currently operates 190 retail locations in 42 states. The company plans to open new locations soon in California, Florida, Michigan, Missouri, New Jersey, Ohio, and Vermont. It also operates 2,613 service bays, up from 2,291 in 2020, 2,575 in 2021, and 2,613 in June 2022. (Source: "Investor Presentation: September 2022," Camping World Holdings Inc, last accessed December 21, 2022.)
The company operates through two segments: Good Sam Services and Plans, and  RV and Outdoor Retail.
Its Good Sam Services and Plans segment sells emergency roadside assistance plans; property and casualty insurance programs; travel assistance programs; extended vehicle service contracts; vehicle financing and refinancing assistance; consumer shows and events; and consumer publications and directories.
Camping World Holdings Inc's RV and Outdoor Retail segment sells new and used RVs; gets commissions on the finance and insurance contracts related to the sale of RVs; provides service and collision work; sells parts, accessories, outdoor products, equipment, and other supplies; does interior design for RVs; does business-to-business distribution of RV furniture, and sells "Good Sam Club" memberships and co-branded credit cards.
The company has 5.5 million active customers and 2.1 million Good Sam Club members. Yet, there's still lots of room for Camping World Holdings Inc to grow. The company currently has a 15% market share in the new RV sector and a five-percent market share in the used RV sector.
Camping World Holdings Inc Reports Strong Q3 Financial Results
For the third quarter ended September 30, Camping World announced that its revenue slipped by 3.2% year-over-year to $1.9 billion. It's not as bad as it sounds; the drop was a result of exiting certain product lines—including fishing, hunting, and apparel—in 2021. (Source: "Camping World Holdings, Inc. Reports Strong Third Quarter Results," Camping World Holdings Inc, November 1, 2022.)
The company's used vehicle revenue in the quarter was a record $526.0 million, up by 1.2% from the third quarter of 2021. Its used vehicle unit sales went up in the third quarter of 2022 by 6.1% year-over-year to a record 14,460. Its same-store used vehicle unit sales increased by two percent year-over-year.
Camping World Holdings Inc's new vehicle revenue went down in the third quarter of 2022 by 3.5% year-over-year to $834.0 million. Its same-store new vehicle unit sales decreased by 7.2% year-over-year.
The company's net income in the third quarter was $102.9 million, or $0.97 per share, compared to $189.3 million, or $1.72 per share, in the same period of 2021. Its adjusted earnings per share (EPS) were $1.07 in the third quarter of 2022, versus $1.98 in the third quarter of 2021.
Camping World Holdings Inc's new and used vehicle inventories at the end of the third quarter were $1.6 billion, a year-over-year increase of $491.1 million. This increase was driven primarily by the company restocking its inventory of new vehicles to normalized levels and, to a lesser extent, the strategic growth of the company's used vehicle business and the addition of eight dealership locations.
Camping World Stock's Dividend Keeps Rising
Camping World Holdings Inc's consistently solid financial results and profitability have allowed the company to significantly increase the amount of capital it pays to its shareholders. From fiscal 2017 to now, its regular quarterly dividend has expanded from $0.0732 to $0.625. (Source: "CWH Dividend History," Nasdaq, last accessed December 21, 2022.)
Over the same time frame, the company's dividend yield has grown from 0.2% to 10.3% (as of this writing).
In November, the company again declared a regular quarterly dividend of $0.625 per share. With a payout ratio of just 52.0%, that leaves more than enough room for Camping World Holdings Inc to increase its dividend.
CWH Stock Has 50% Upside
Despite all the good things going on at Camping World Holdings Inc, its share price hasn't exactly been exploding this year.
In April 2020, Camping World stock ripped higher by more than 750% following the market crash in the previous month. It went on to hit a new record high of $42.83 on May 4, 2021.
Since then, market sentiment has held CWH stock back. Camping World stock is currently trading down by 34% year-to-date and 30% year-over-year. That's pretty much in line with what's been happening with Consumer Discretionary Select Sector SPDR (NYSEARCA:XLY); it's down by 32% year-to-date and 30% year-over-year.
There's reason to be optimistic about CWH stock. Analysts have provided a 12-month share-price forecast for Camping World Holdings Inc of $31.71 to $37.00. This points to potential gains in the range of 25% to 50%.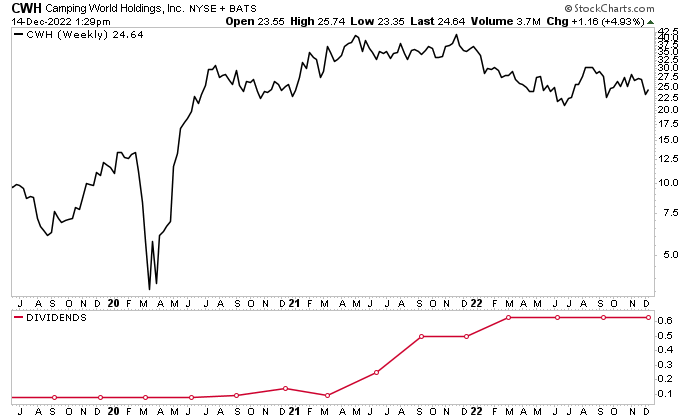 Chart courtesy of StockCharts.com
The Lowdown on Camping World Holdings Inc
Camping World Holdings Inc is a great consumer cyclical company that continues to do well despite economic headwinds. In addition to reporting tremendous financial results (which include record used vehicle sales), it has been announcing strategic acquisitions, opening new locations, and expanding its business footprint throughout California, one of America's largest RV markets.
A return to economic normalcy in the second half of 2023 should help boost Camping World stock's currently beaten-down share price.


[ad_2]

Source link